If you receive your electric power from T.I.P. Rural Electric Cooperative, you are a member and part-owner of a cooperative providing electric service to over 6,496 meters and 1,764 miles of line. We are a progressive utility serving customers in Benton, Iowa, Jefferson, Johnson, Keokuk, Mahaska, Poweshiek, Tama, Wapello, and Washington Counties.
Organized in 1938, T.I.P. Rural Electric Cooperative is a true cooperative. Headquartered in Brooklyn, Iowa, we are a private, non–profit electric utility owned by the members we serve to provide reliable electric service at the lowest possible cost.
 
---
Mission Statement
T.I.P. Rural Electric Cooperative strives to provide safe, reliable electricity at a
competitive cost and will pursue excellence in technology, service and member relations,
for the benefit of our members and the communities we serve.
---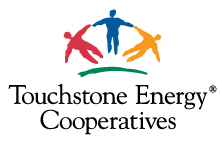 We are also a Touchstone Energy cooperative; which is an alliance of over 700+ local, member-owned electric utilities in 46 states delivering energy and money-saving solutions to businesses and homes every day. This allows us to be a part of the electric cooperatives that have built strong relationships in the communities they serve.
Touchstone Energy's four core values are:
Accountability – Delivering superior service to members every day.
Integrity – Building trust through an unwavering commitment to best business practices.
Innovation – Bringing the cooperative advantage to life.
Commitment to Community – Working to improve the quality of life in our communities.
Quote
Local ownership, local control, not-for-profit operation, and cooperation— your cooperative is something special: a unique way of doing business!
Office Locations & Hours of Operation
Brooklyn (Main Offiice)
612 West Des Moines Street
Brooklyn, Iowa 52211
Sigourney (Outpost)
1295 200th Avenue
Sigourney, Iowa 52591