Do you want to know more about your cooperative's history? Expand the sections below for additional details.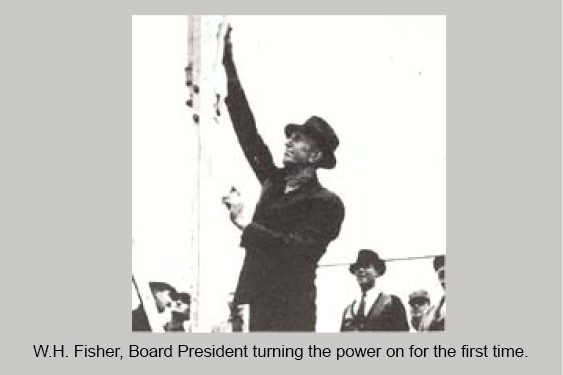 In 1938, construction began on our first line that totaled 132 miles and on April 27, 1939, it was energized by W.H. Fisher who was Board President. Our first substation that was just south of Belle Plaine provided the electricity for that line.
Irvin Nervig was hired as our first General Manager in June of 1938.
In the early 1950s we had five substations, which also meant our membership was growing. More office space was needed so a new building was constructed at the west edge of Brooklyn and the move was made in June of 1953.
At approximately the same time the decision was made to have an outpost at Sigourney to maintain the southern half of the service territory.
1963 marked a quarter-century for T.I.P. Rural Electric Cooperative. In the first 25 years, T.I.P. Rural Electric Cooperative had grown to 10 substations, 4,000 members and 1,600 miles of distribution line. The first patronage refund also happened this year with $180,000 in dividends being paid back to those who were members from 1940 through 1947.
On March 27, 1975, we had one of the worst ice storms of T.I.P.'s history. Ice and high winds downed over 1,000 poles.
In June 1978, we joined Central Area Data Processing in St. Louis, Missouri, to facilitate our record-keeping and billing procedures.
In 1978, General Manager Irvin Nervig retired after 40 years of service. Darrel N. Heetland, who had been the Assistant Manager, became the second General Manager.
The Louie the Lightning Bug safety program debuted in February 1989. Louie and his REC helper travel to all the schools in our service territory promoting electrical safety to the children.
In 1998, T.I.P. joined with Touchstone Energy, a national alliance of local, member-owned electric cooperatives which provides high standards of service to customers. Touchstone Energy cooperatives are dedicated to serving customers with integrity, accountability, innovation, and commitment to community.
Straight-line winds caused approximately 4,500 of our 5,500 members to lose power on June 29, 1998. Transmission service was lost to 17 of our 21 substations due to our power supplier. Our damage estimate for this storm was approximately $250,000.00.
In May 2001, we began installing meters with an automatic meter reader in them. This Turtle System automatically reads your meter and transmits the reading down the electric line to the substation receiver. The substation receiver is called each night by a host computer in the Brooklyn office.
On February 24, 2007, T.I.P. Rural Electric Cooperative was hit by a severe ice storm which caused about 5,350 of our 6,150 customers to lose power. We lost approximately 700 poles with estimated damage of $1,000,000.  
In 2008, we tore the old Sigourney buildings down which were in need of repair and constructed a new building that housed the office and garage.
On February 1, 2011, Larry Boesenberg, who had been the Financial Manager, became the 3rd General Manager. He replaced Darrel N. Heetland who retired after 42 years of service to the cooperative.
In 2013, T.I.P. Rural Electric Cooperative celebrated 75 years in business.
In 2015, the Elster meter reading system was implemented which included SmartHub, which allows members to look at their hourly electric usage, view their bill and pay their bill via the internet or smartphone.
On May 15, 2017, Jon Miles became the 4th General Manager.
In the spring of 2019, we converted from paper maps to digital maps that integrate with the billing and outage management systems. 
On May 16, 2019, Dean A. Huls became the 5th General Manager.
 
On Monday, August 10, 2020, a derecho storm caused extensive, widespread damage to our entire service territory. The derecho left 6,288 of our 6,438 meters which is 97.7% of our total meters without power. We had approximately 160 broken poles and over 30,000 ft of damaged wire.
On Saturday, August 29, 2020, we held our first Drive-Thru Annual Meeting due to the COVID-19 pandemic. 
 
October 2022, General Manager, Dean A. Huls, and your Board of Directors held a groundbreaking for the new Brooklyn headquarters which will be located at the Brooklyn Industrial Park. The new facility will have a new office building, attached shop and adjacent pole yard.
On June 1, 2023, Scott Long became the 6th General Manager.