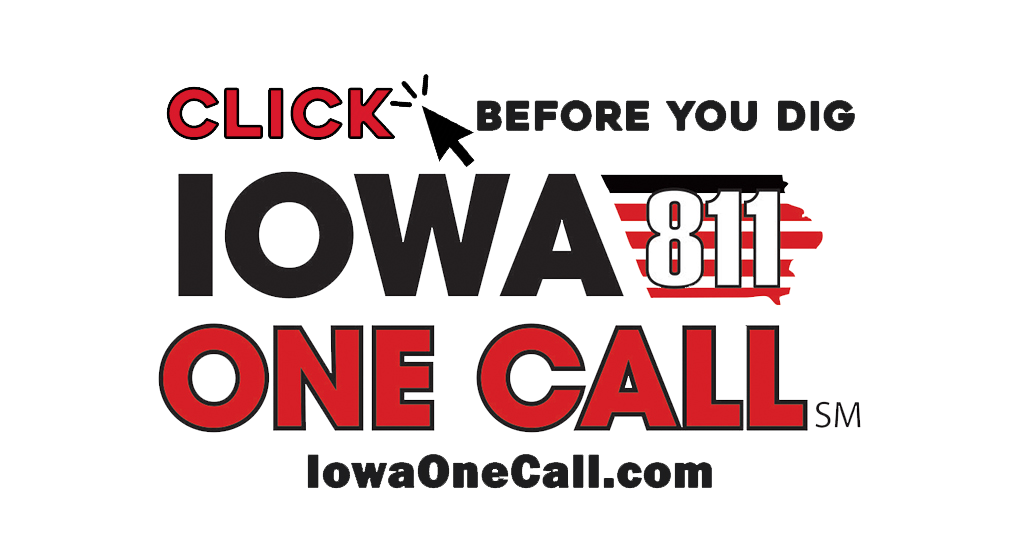 Iowa One Call is a free statewide program that provides contractors, homeowners, and others one service for locating and marking underground facilities (electric, gas, telecommunications, cable television, water and sewer), when excavating, digging or trenching.
Iowa Law states to notify Iowa One Call if you are planning a digging project. You can submit a request online by visiting www.iowaonecall.com, calling 811 or 800-292-8989, or by downloading the Iowa One Call app on your phone at least three business days before you start. The Iowa One Call Center has operators standing by 24 hours a day, 7 days a week monitoring the calls and notifying utilities if there is an underground line in the area where digging is to take place. 
Here's how the process works:
After you submit your request online or call 811, all affected utilities will be notified of your intent to dig. Your utilities will be located within 48 hours. The affected utilities will send someone out to mark the buried lines with paint or flags. Before you break ground, confirm that all the utilities have responded to your request. If you submitted your request online, refer to your 811 center ticket to confirm everything. If you placed your request by phone, use the process explained by your 811 call center representative.
By taking this important step before you break ground on your project, you protect the digger and the utilites. Disrupting an underground utility line can interrupt service, cause injuries and cost money to repair, so remember to contact Iowa One Call first and know what's below.